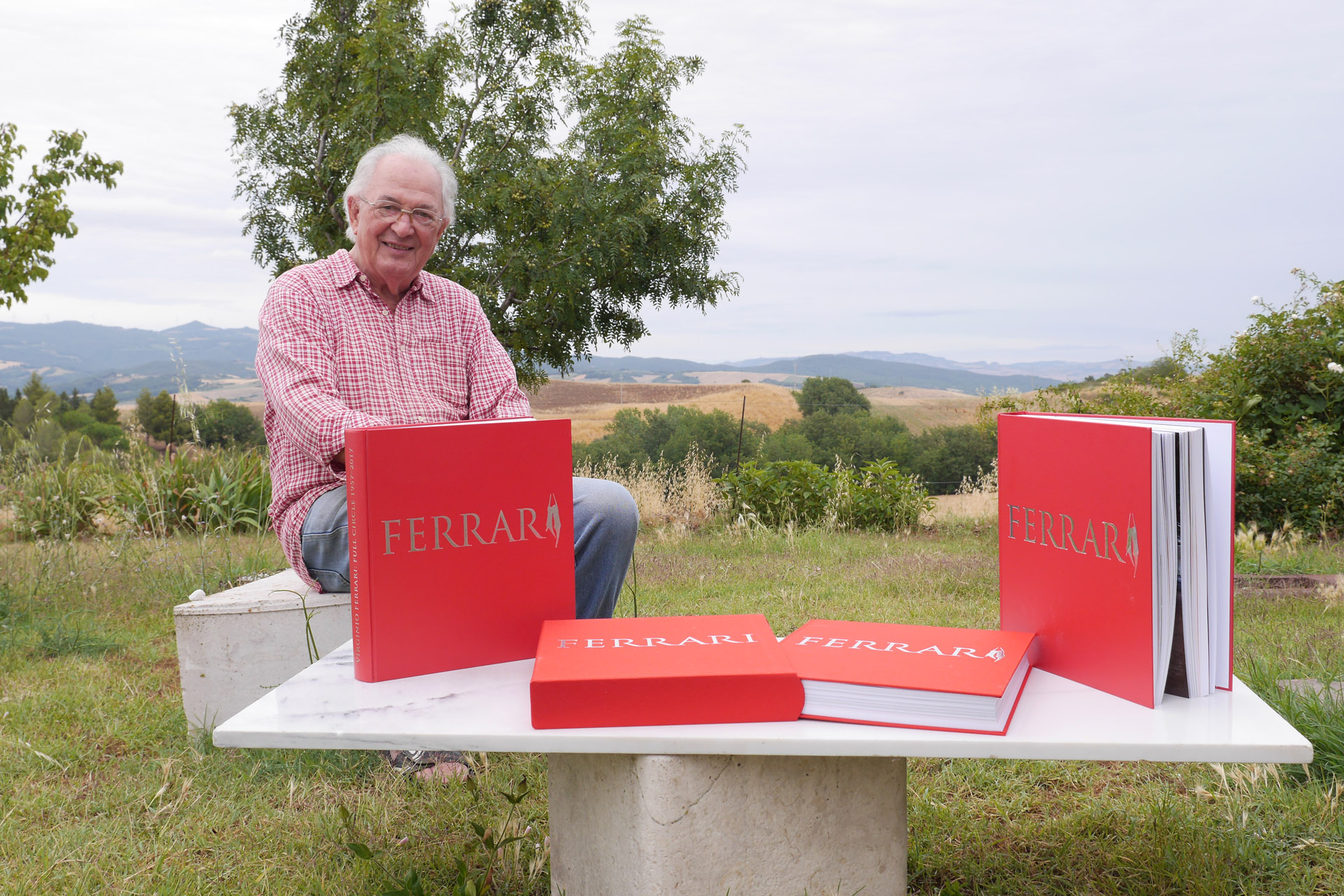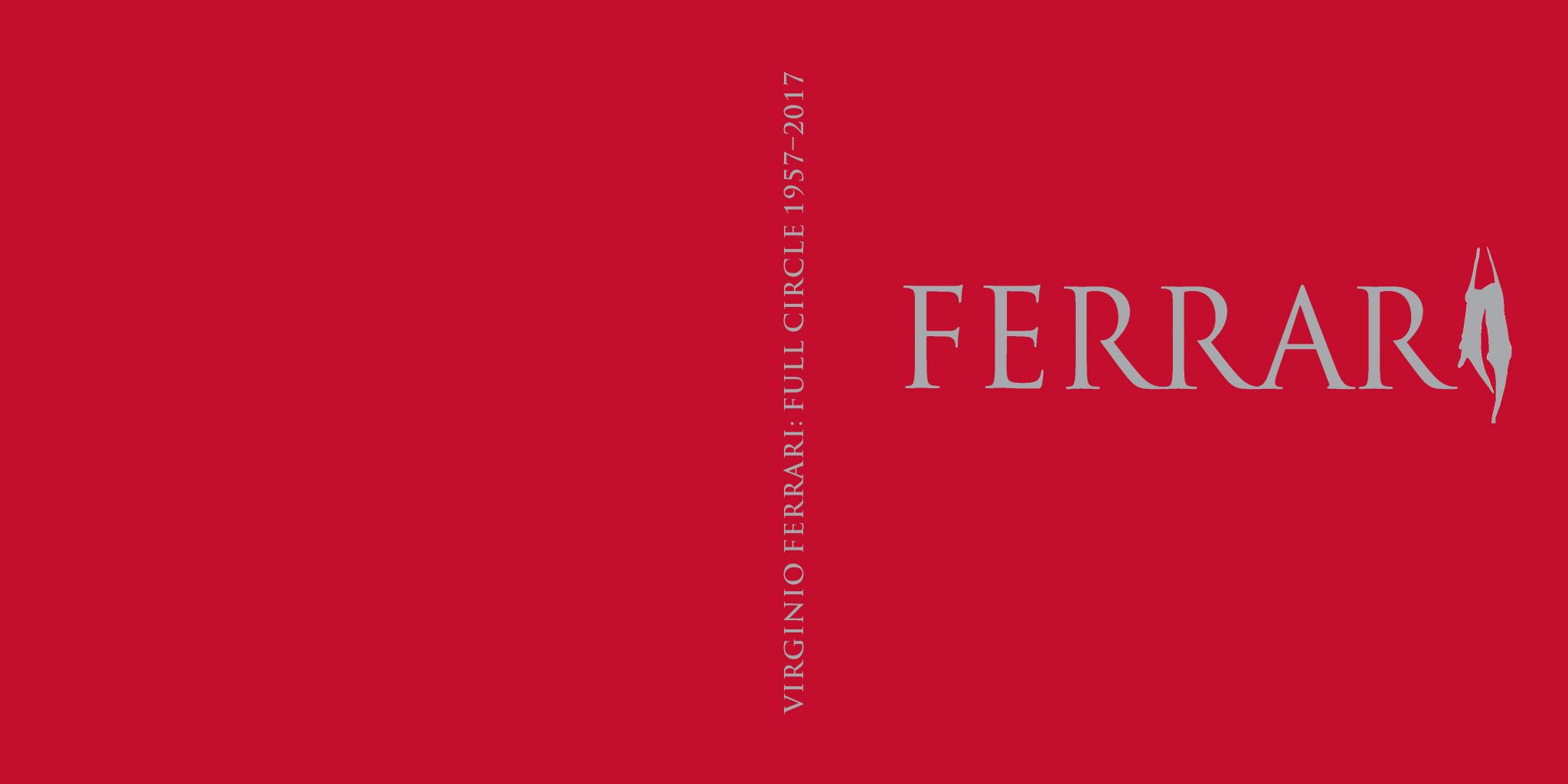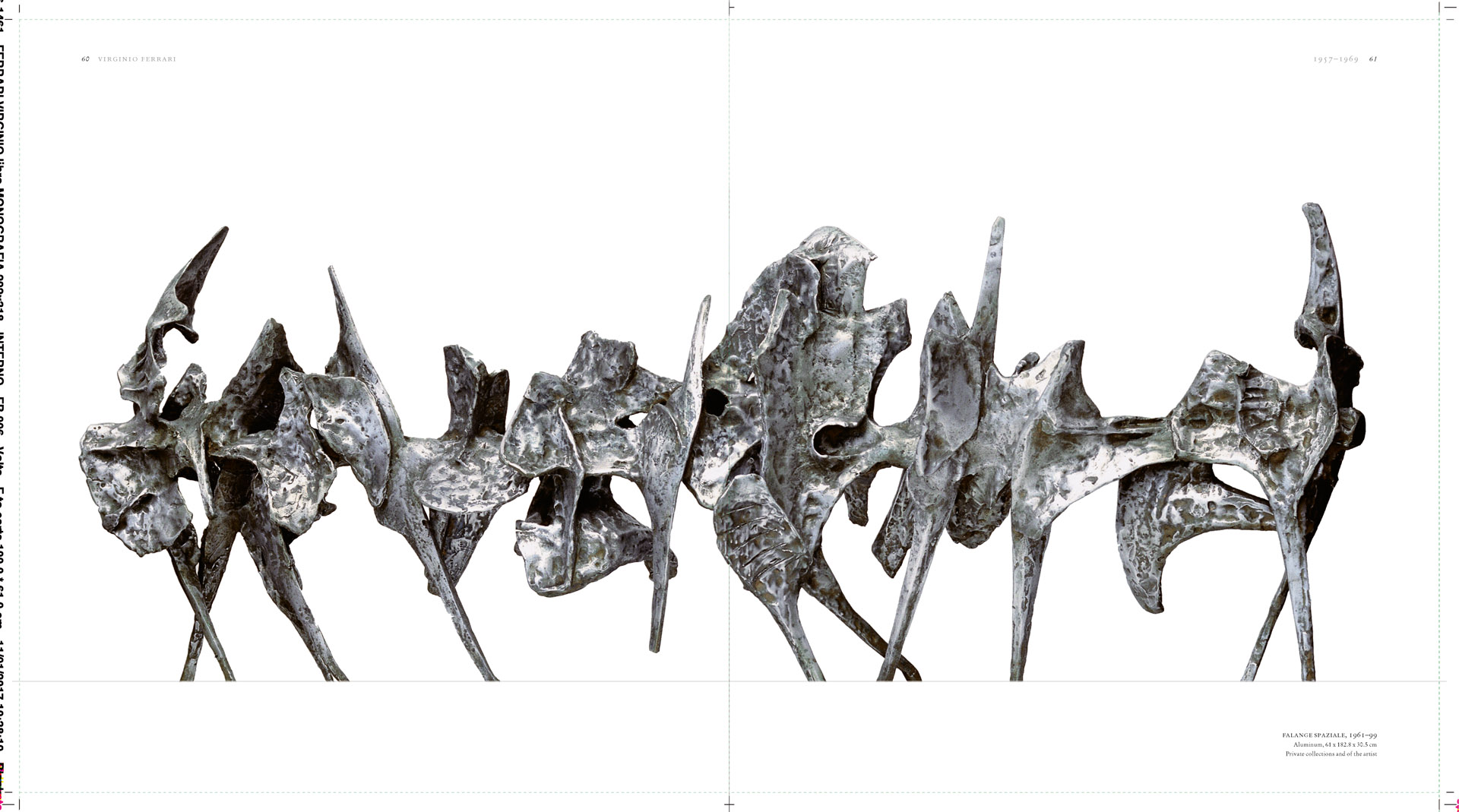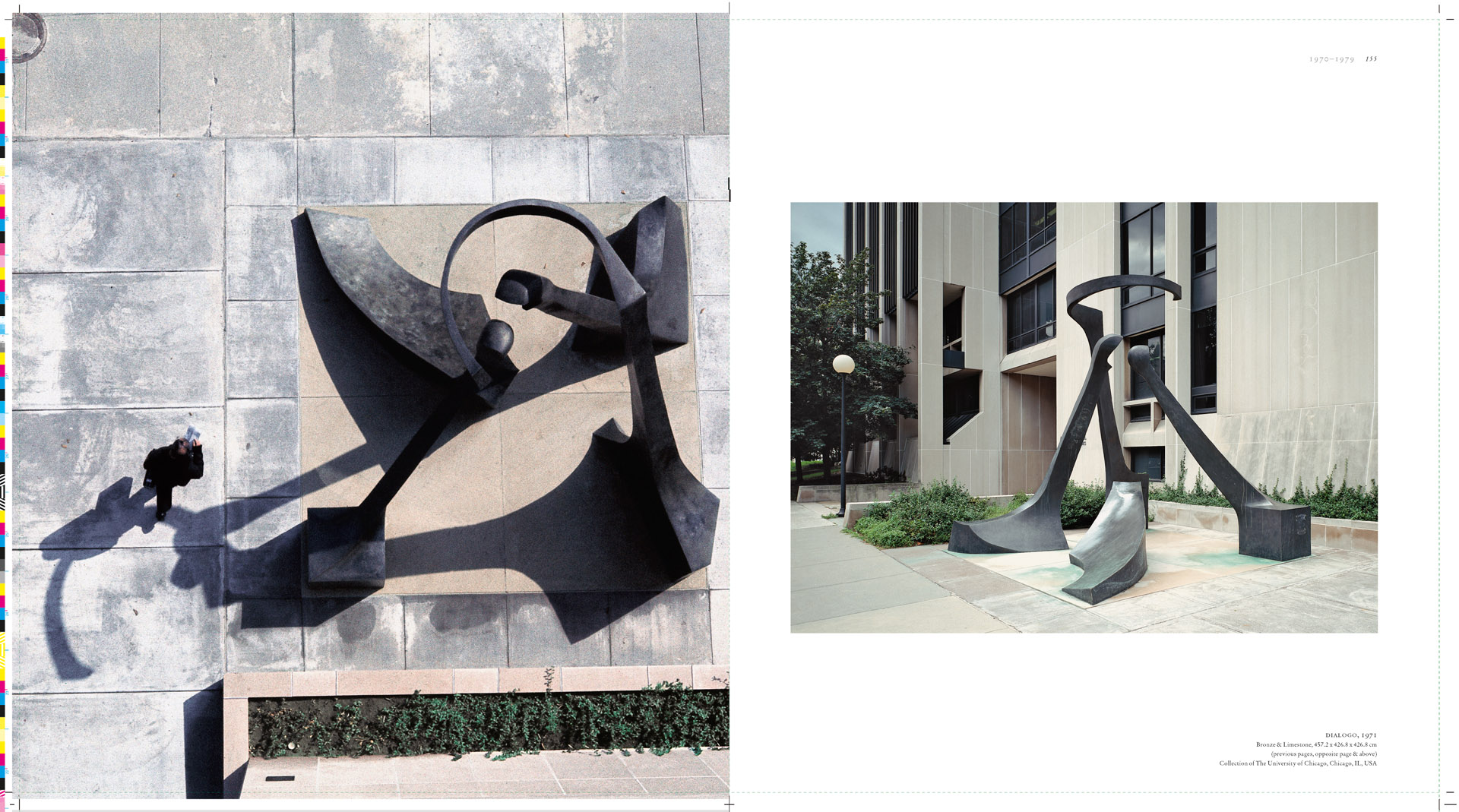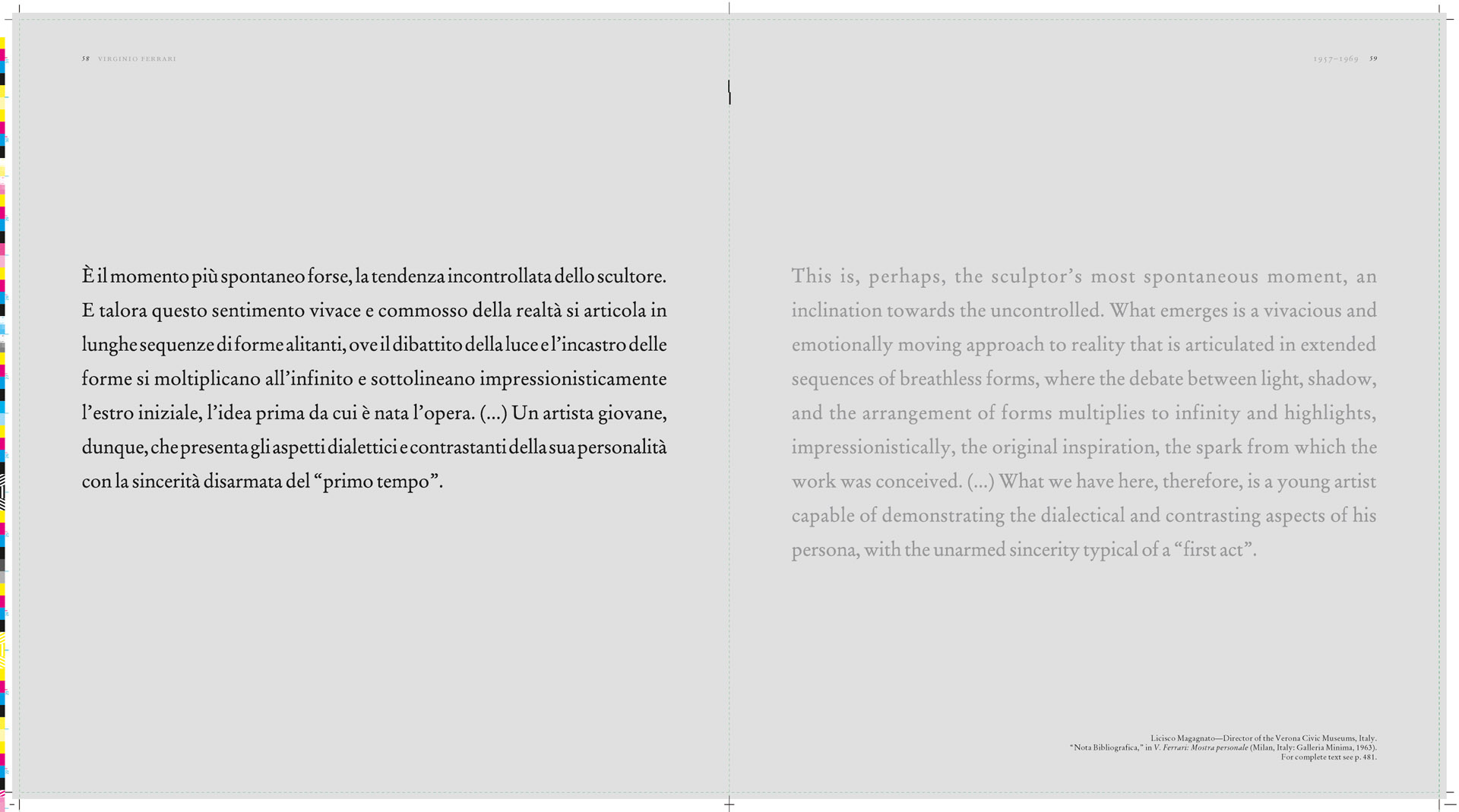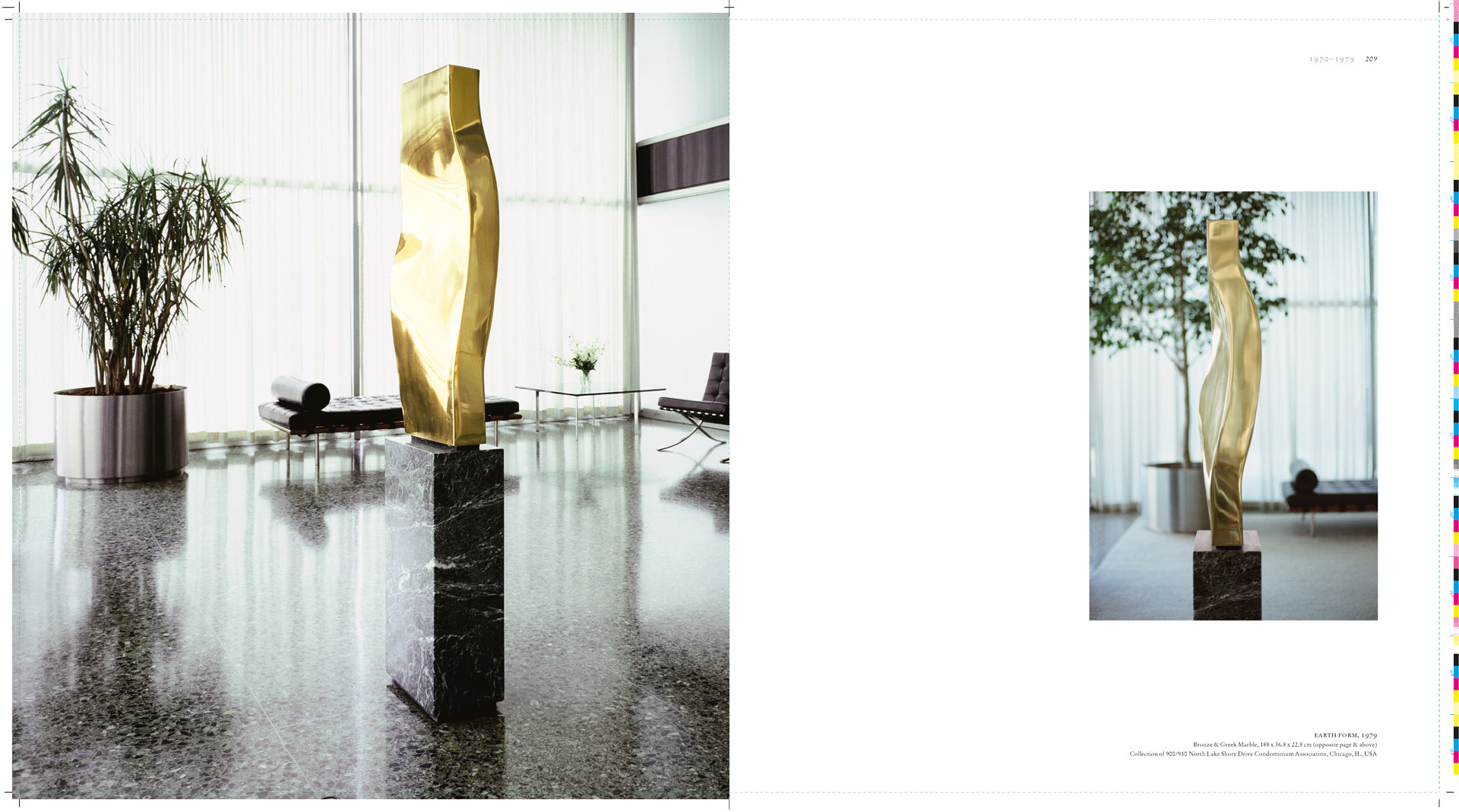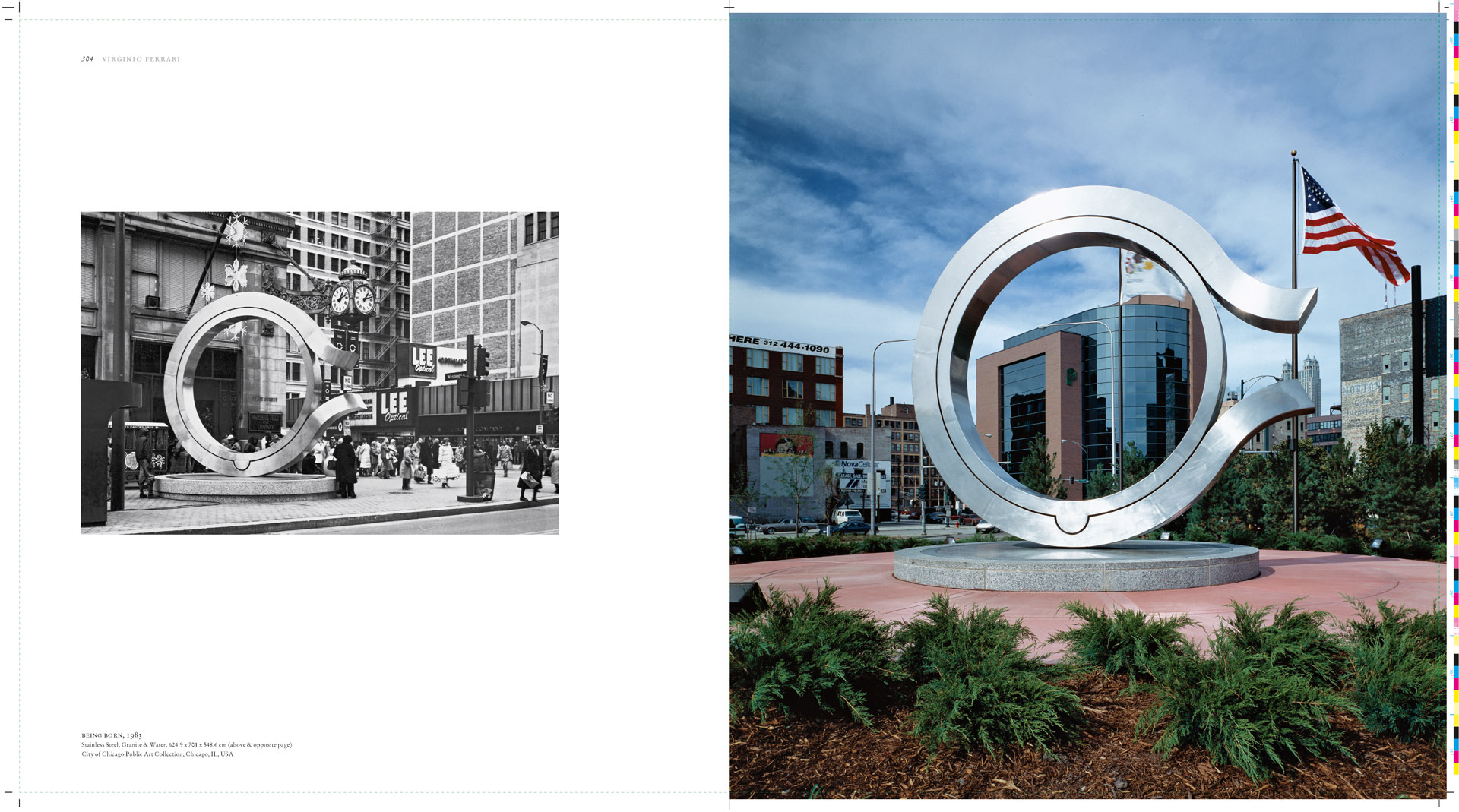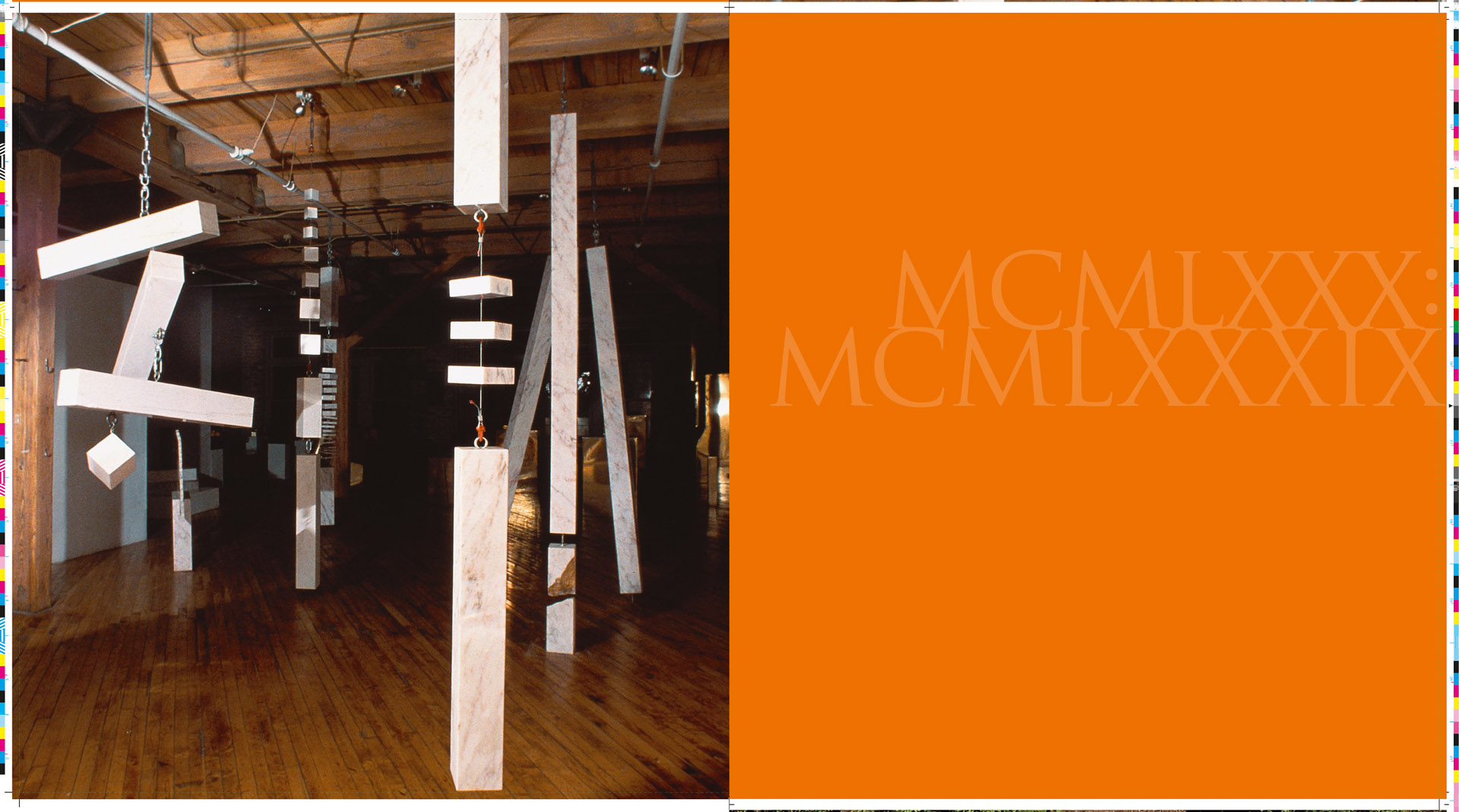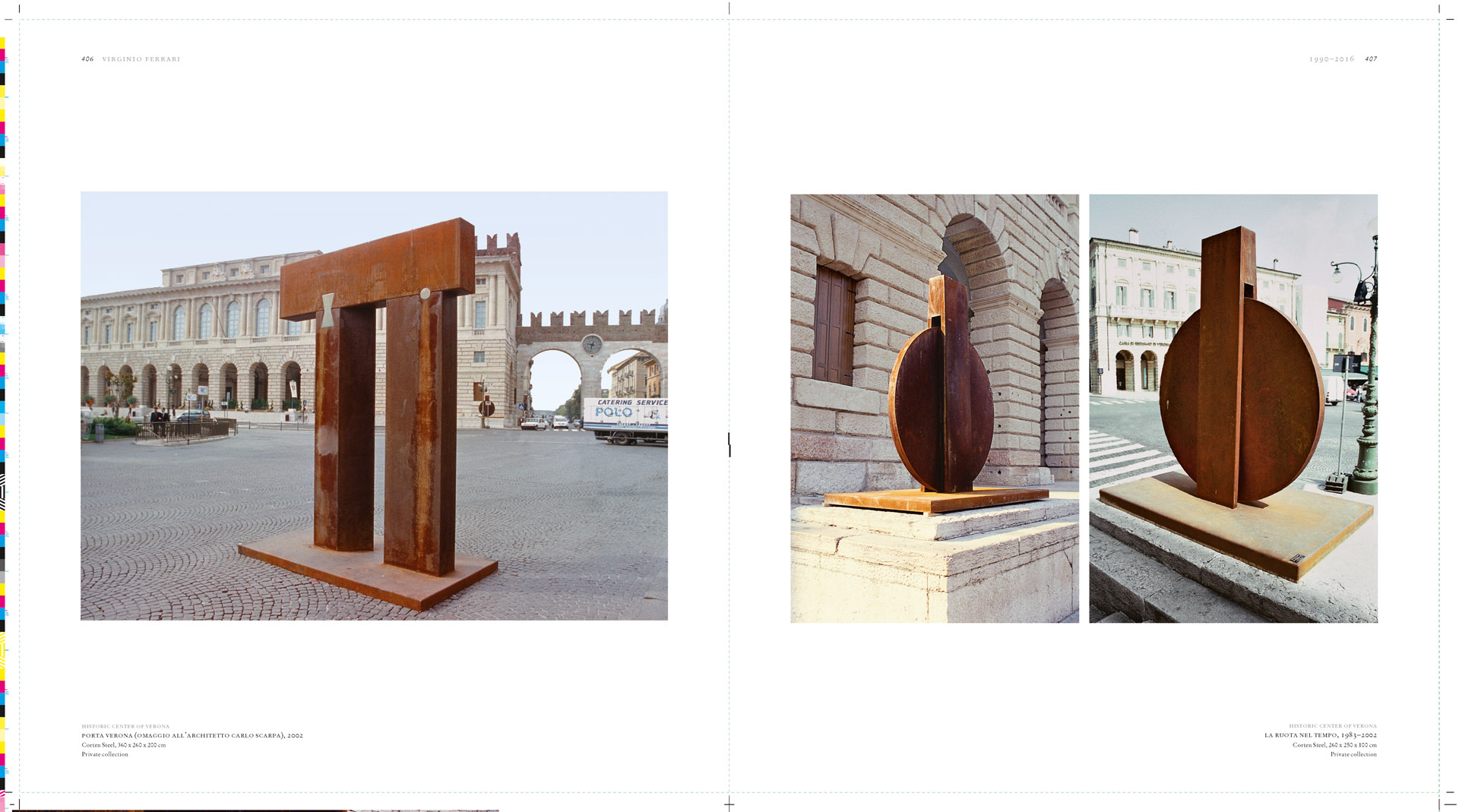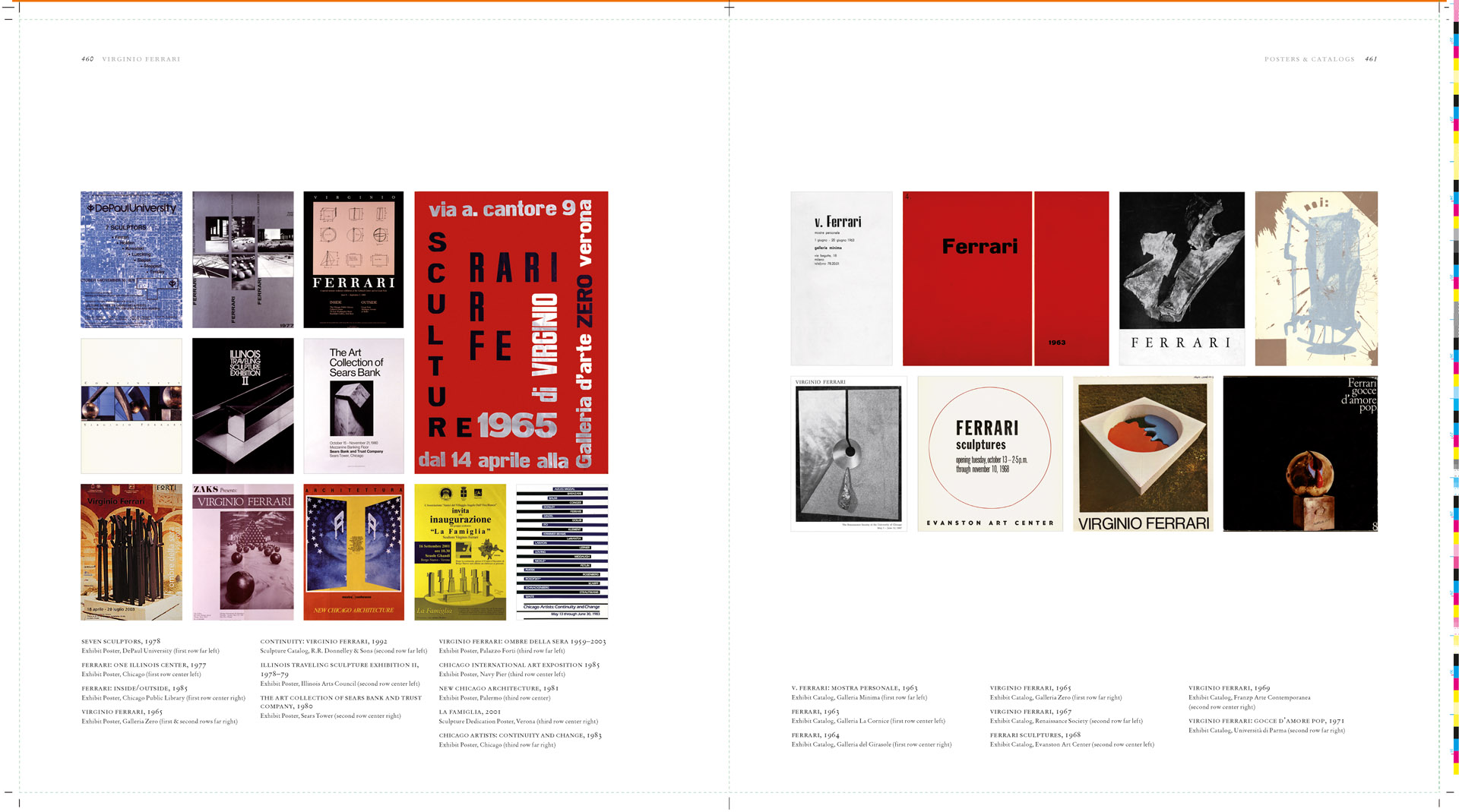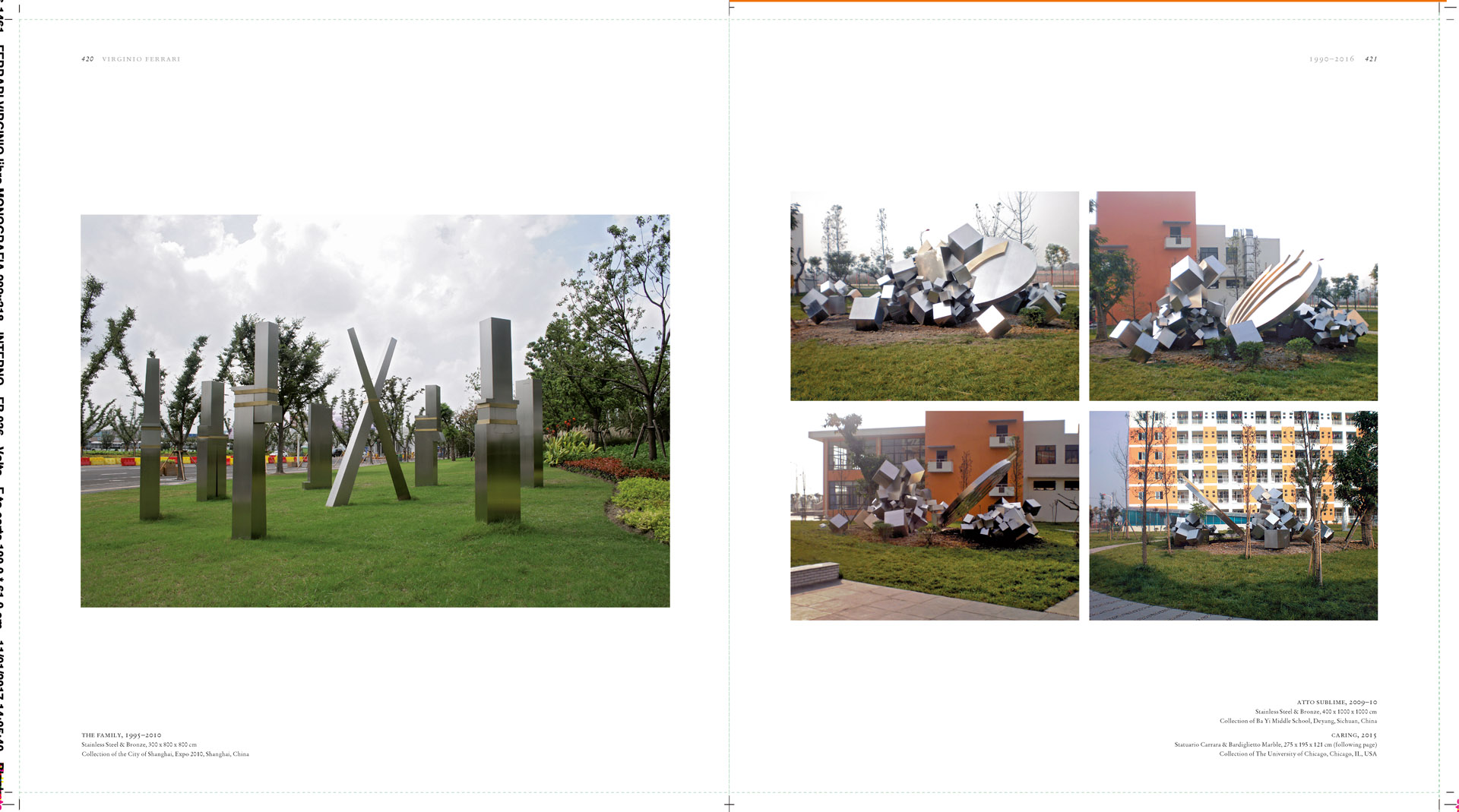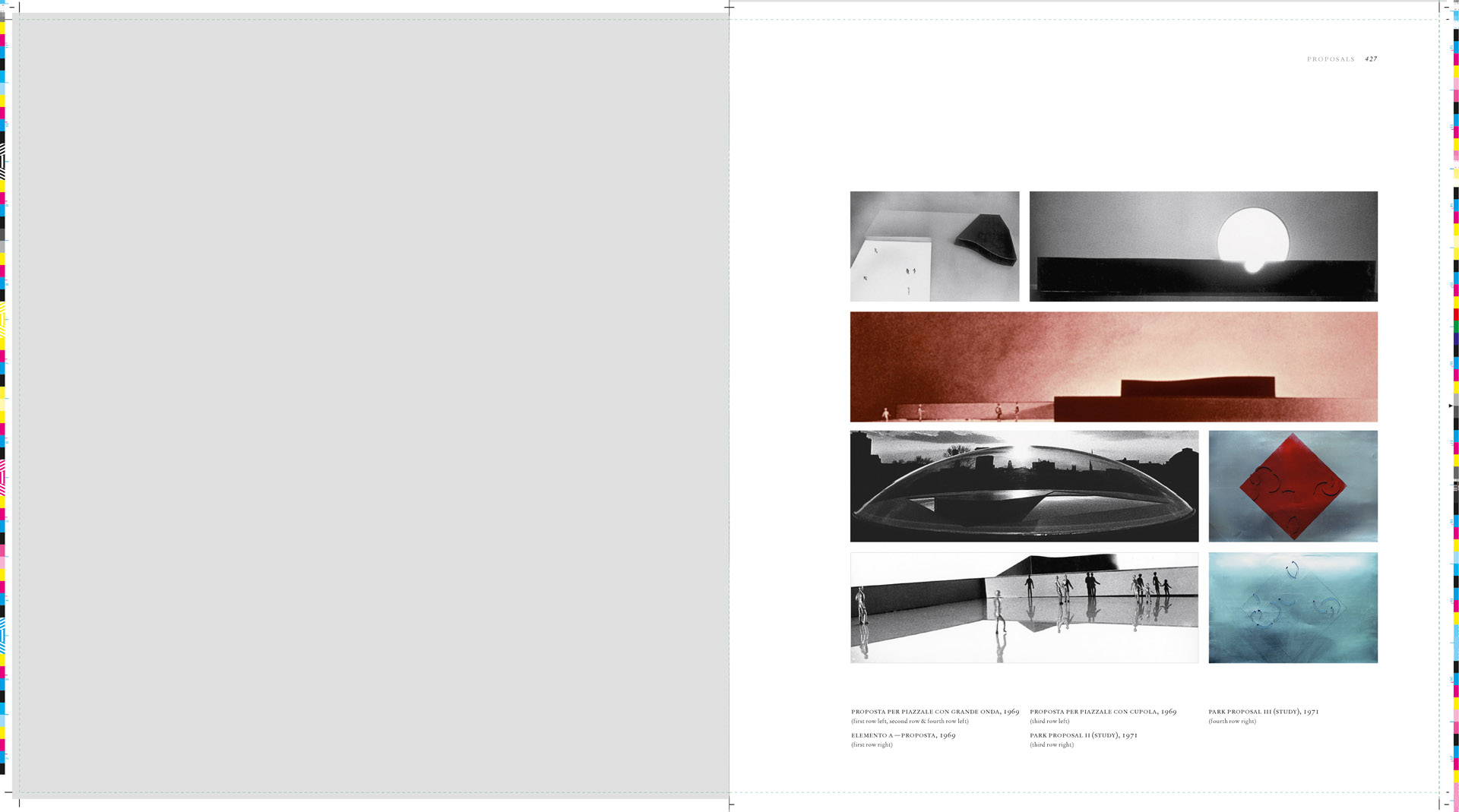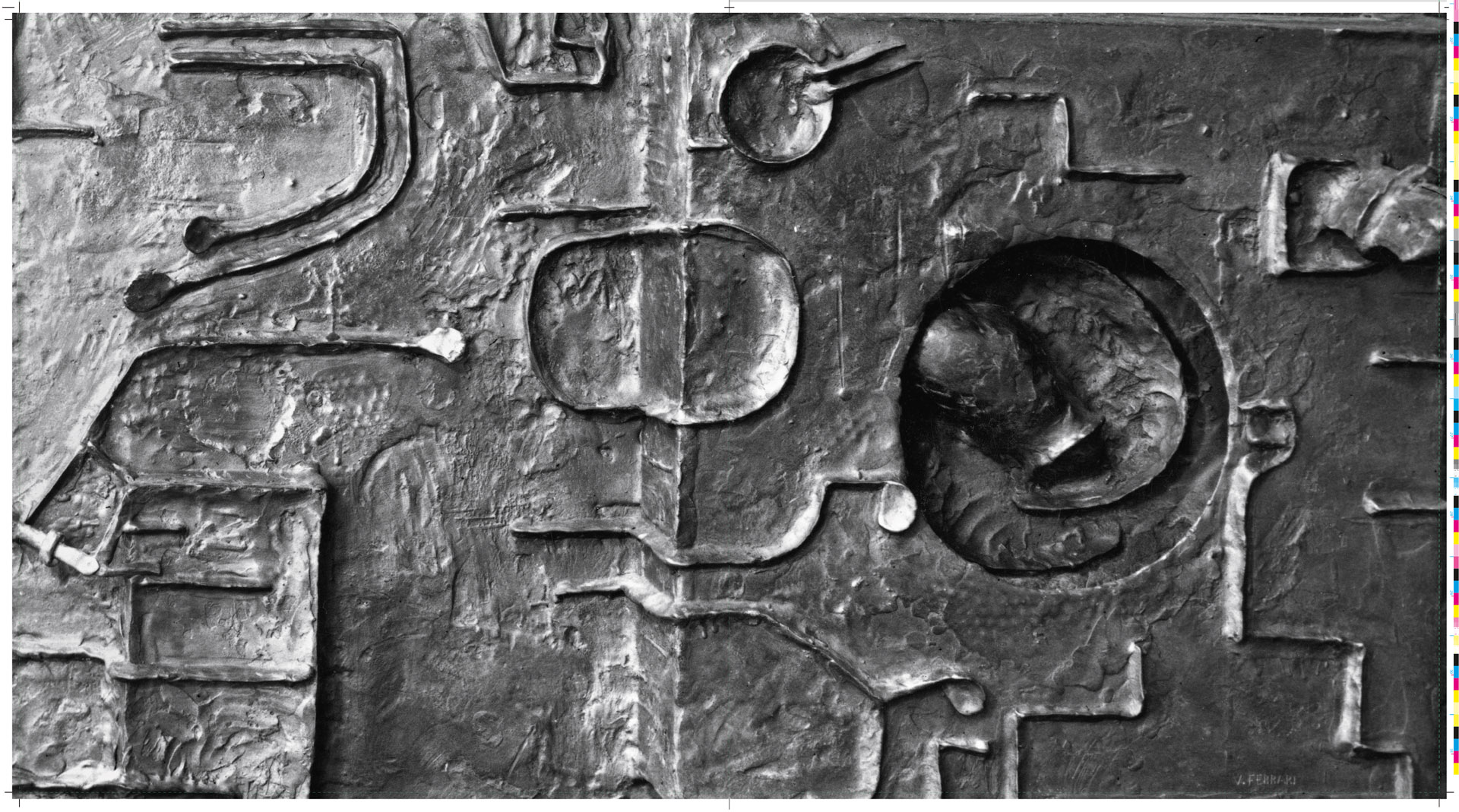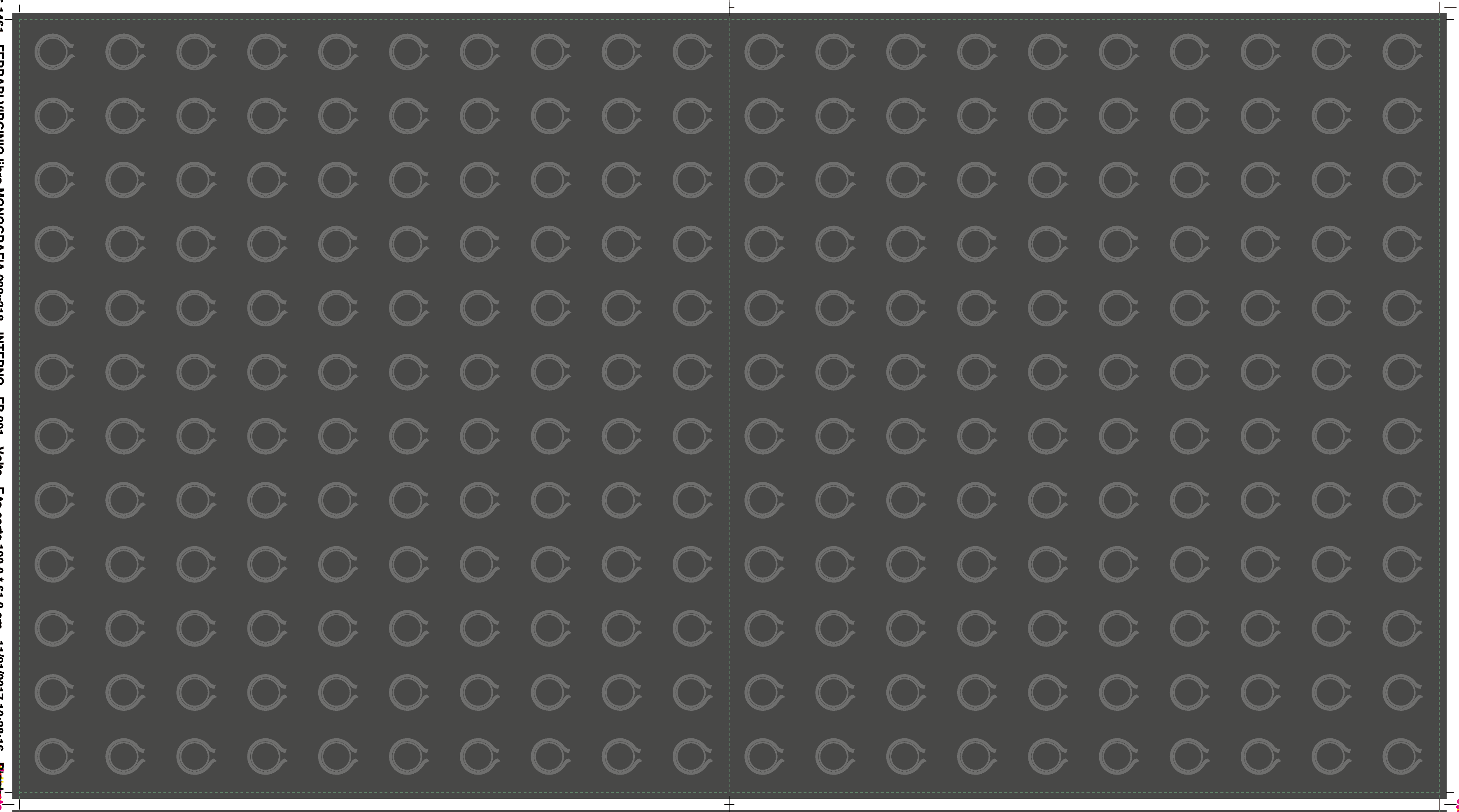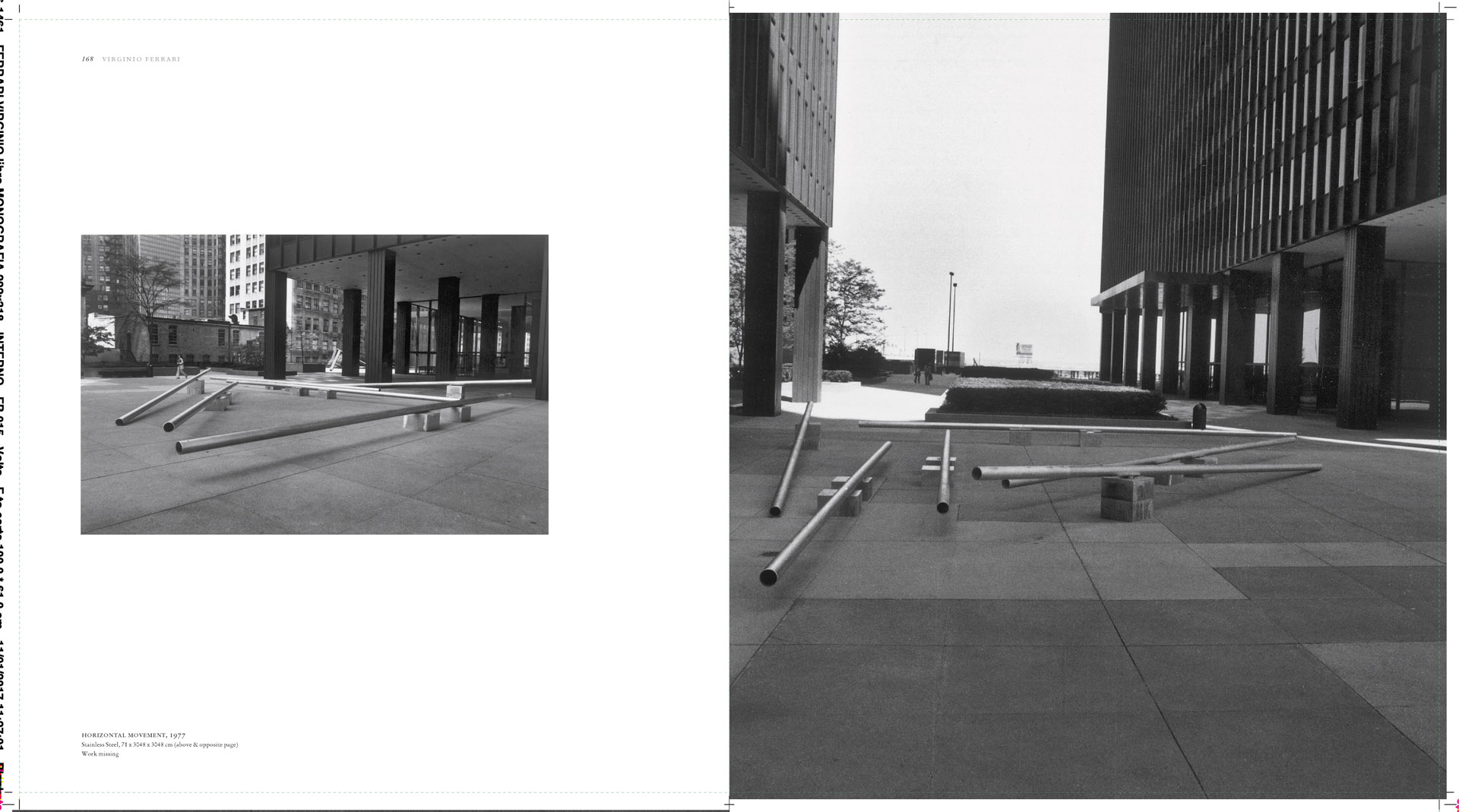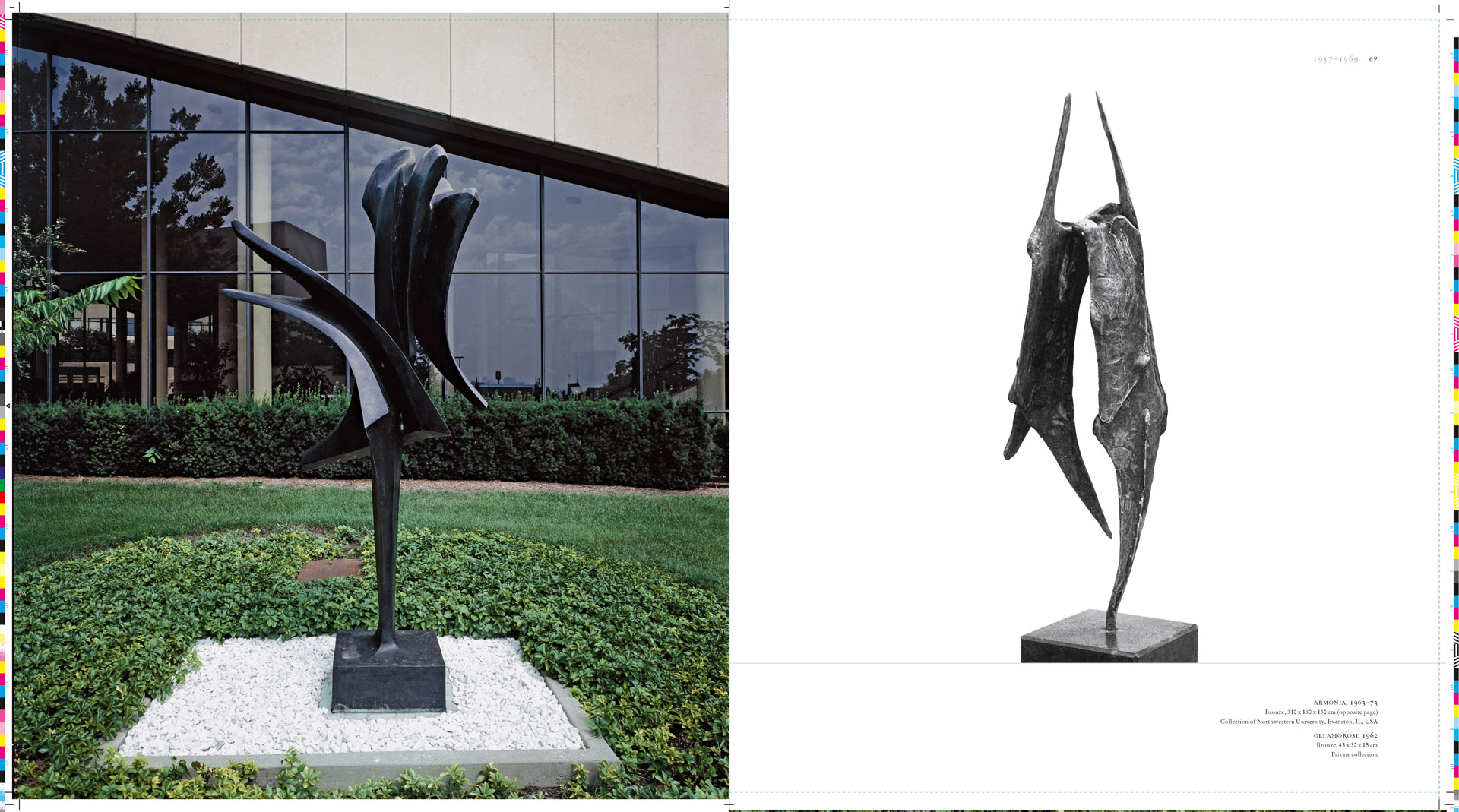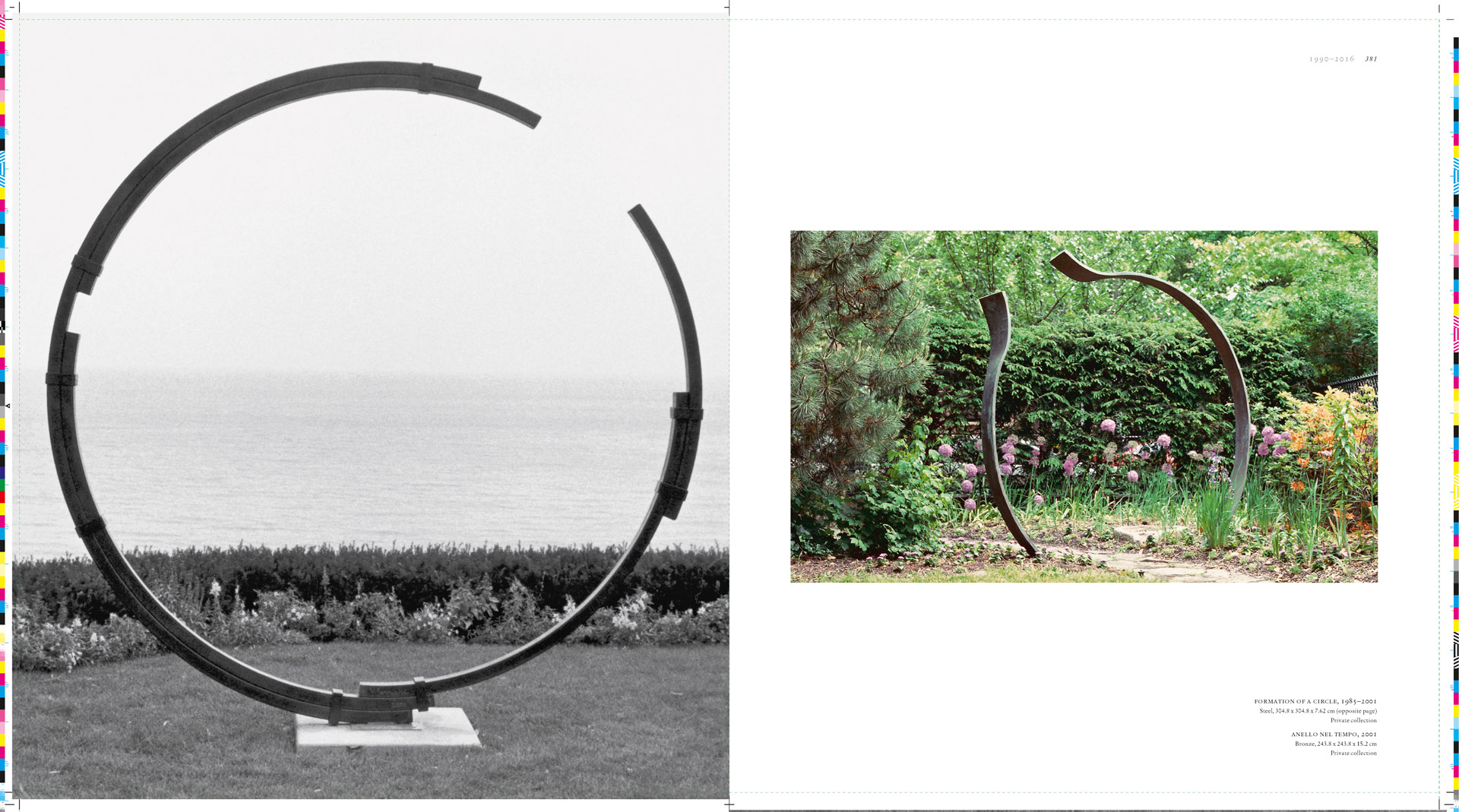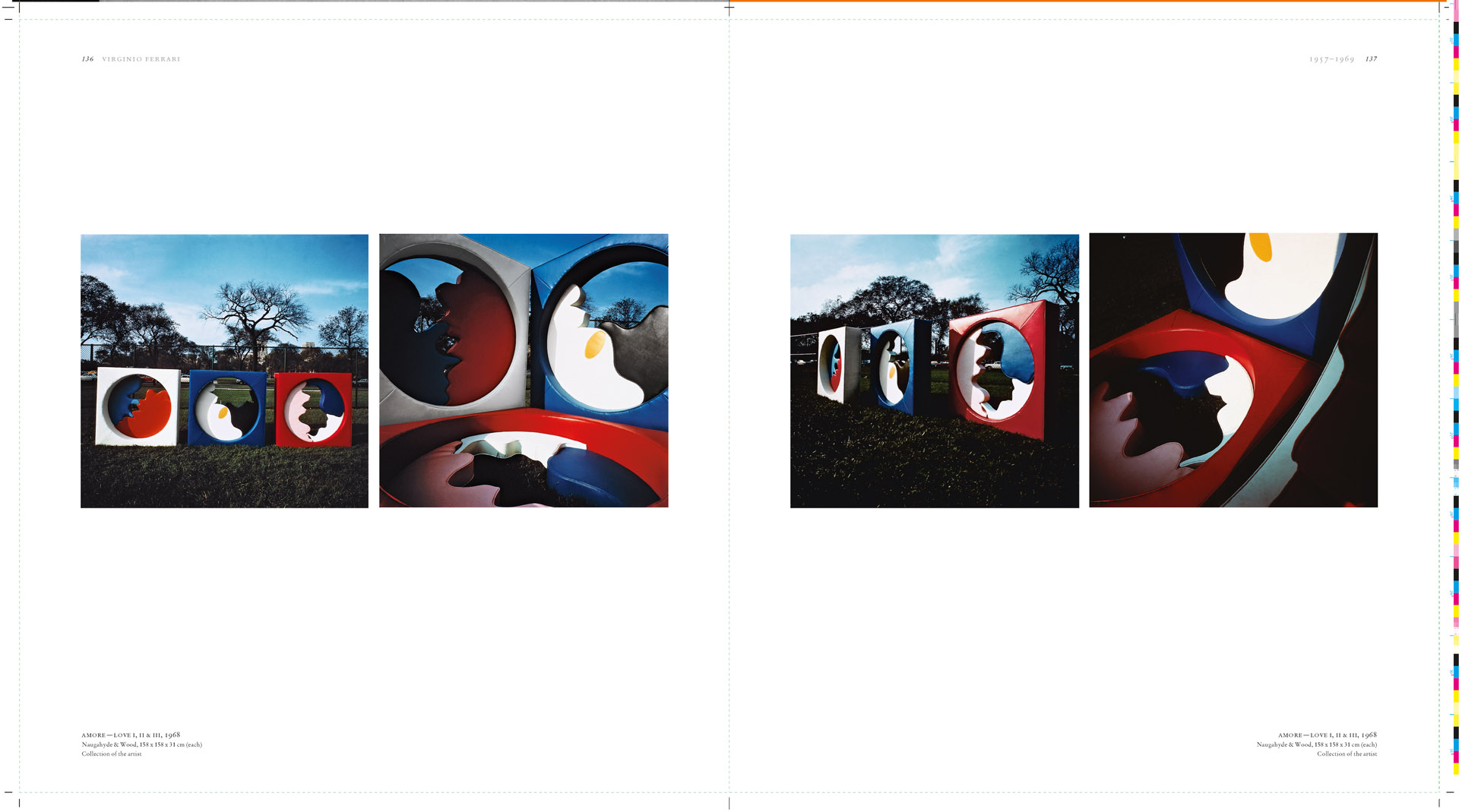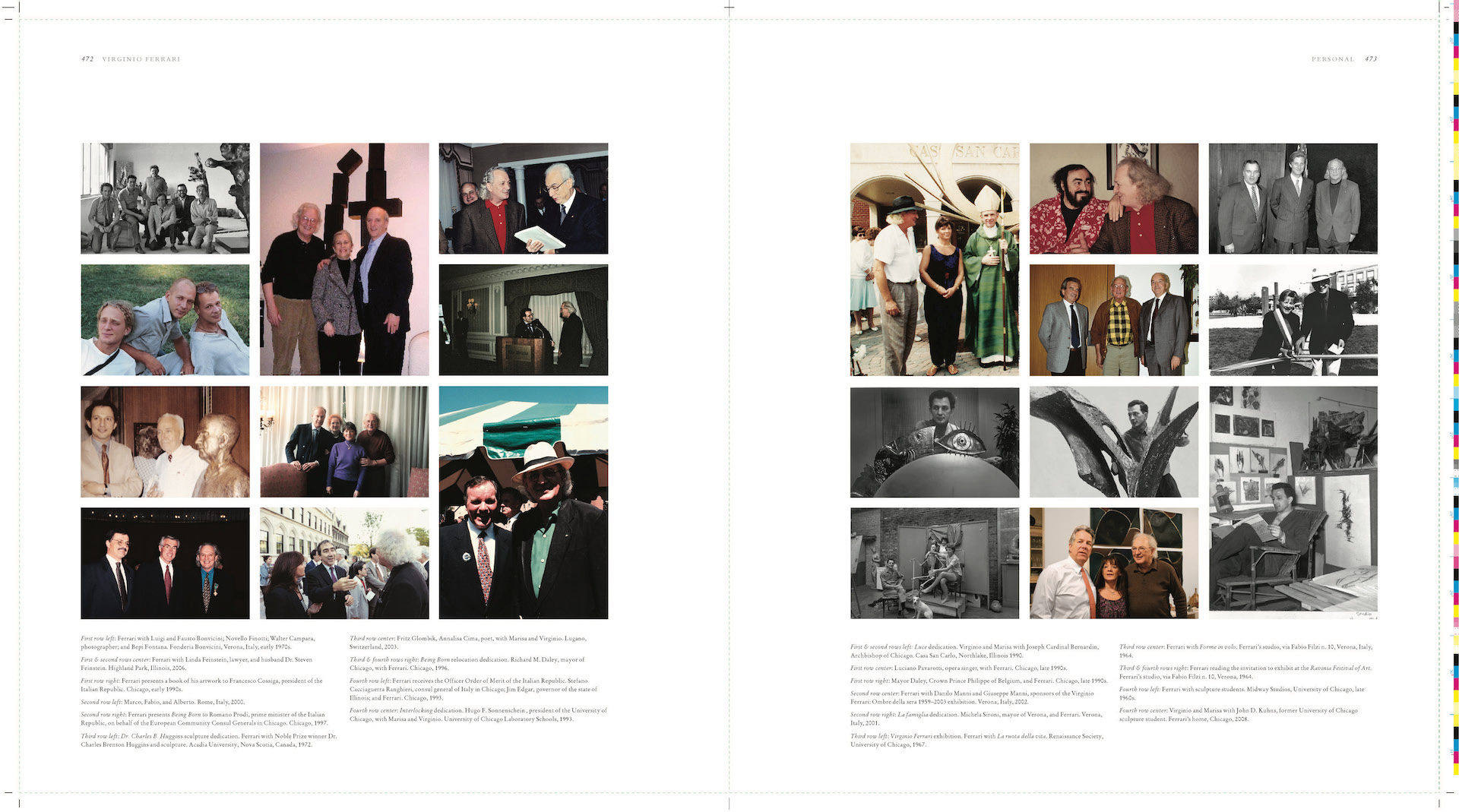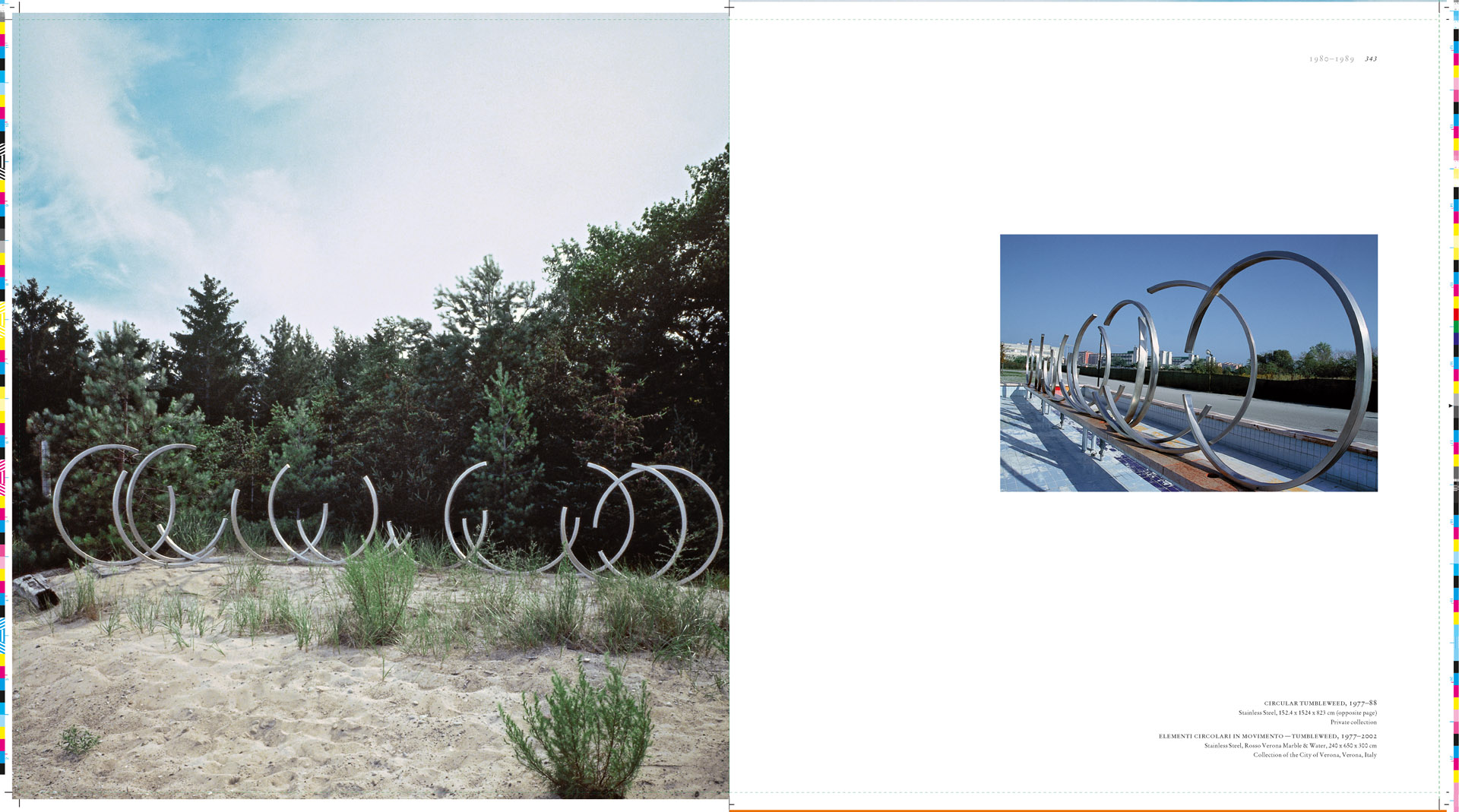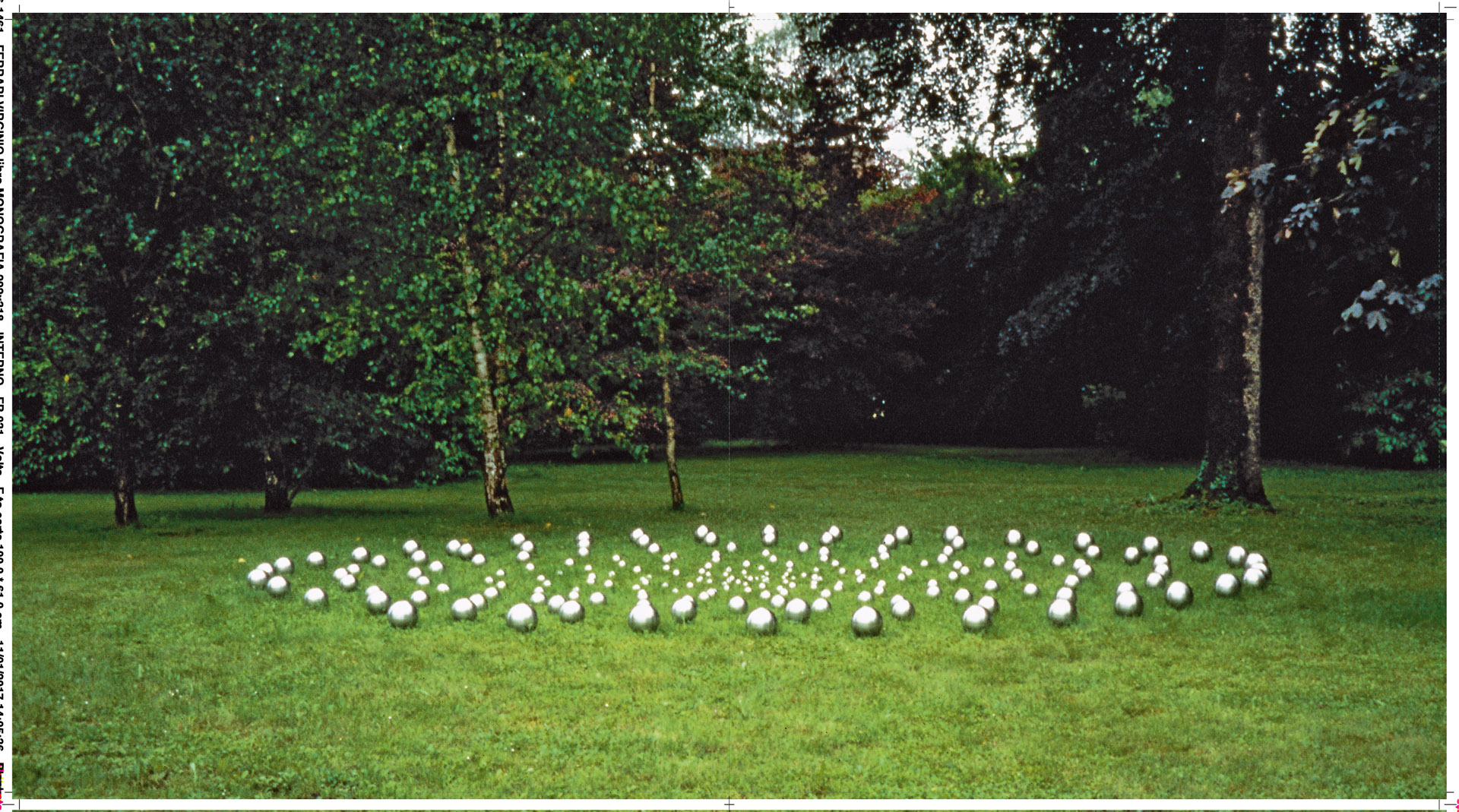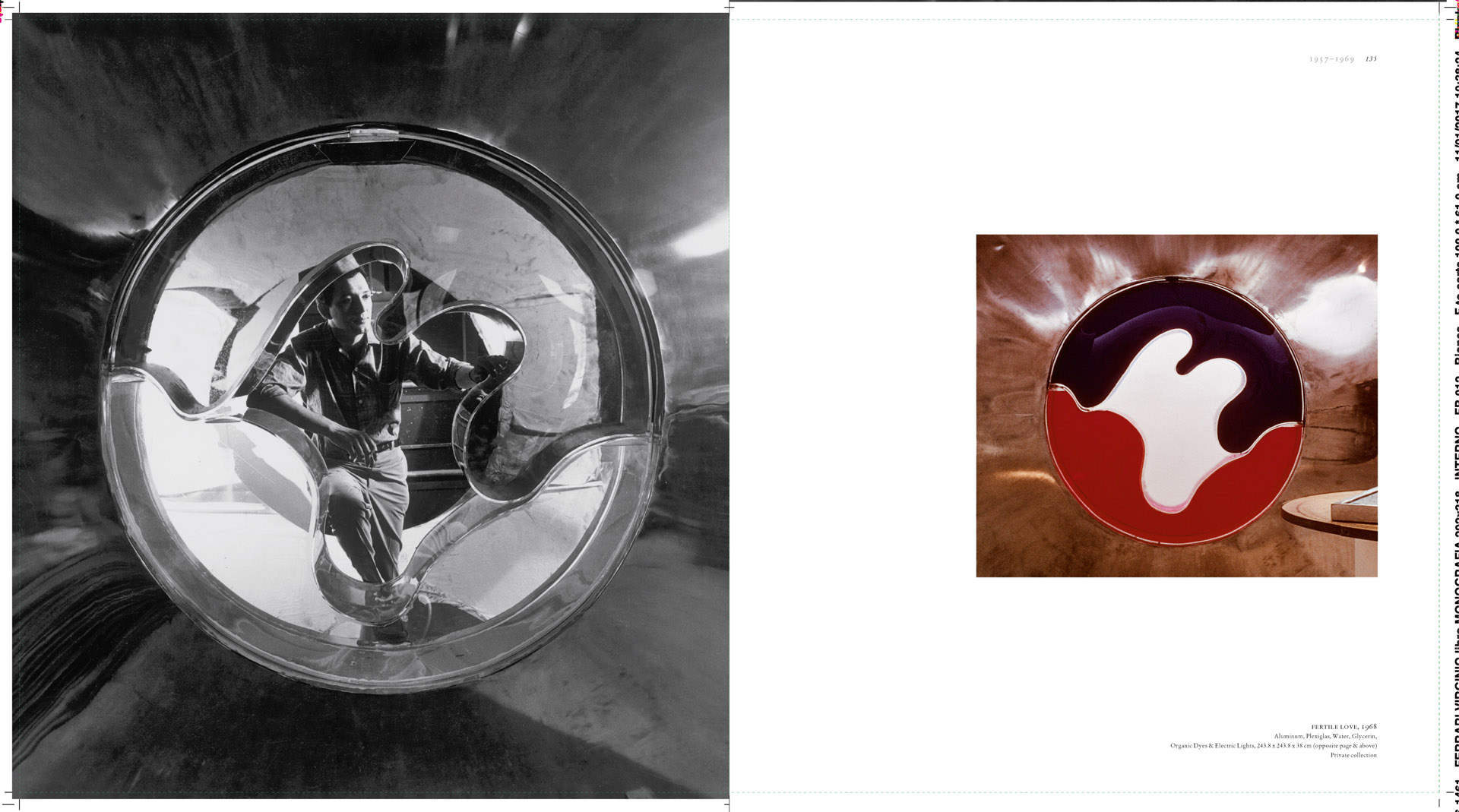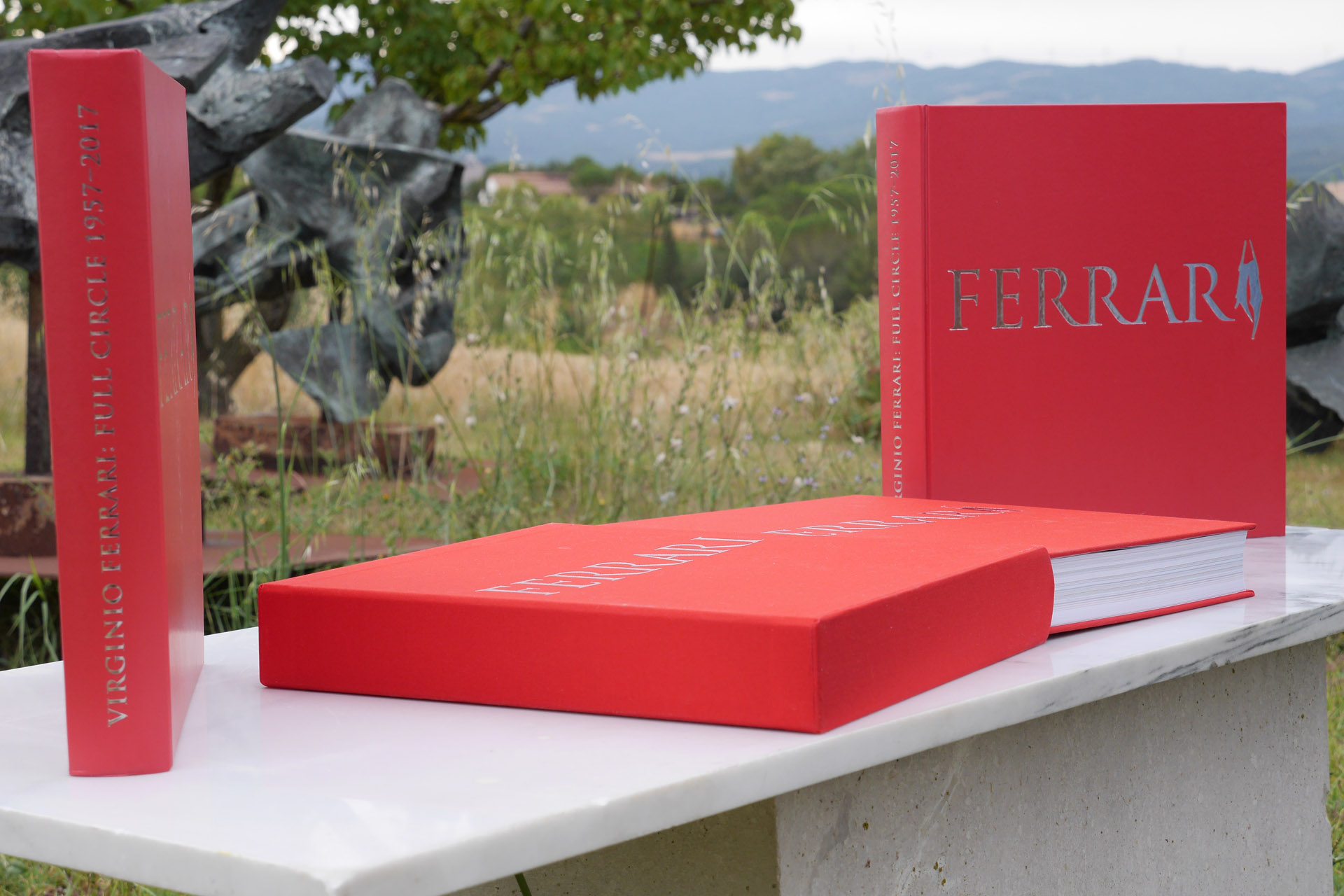 VIRGINIO FERRARI: FULL CIRCLE 1957–2017

Ferrari Studios is proud to announce that the limited edition monograph art book titled, Virginio Ferrari: Full Circle 1957–2017, on internationally acclaimed sculptor Virginio Ferrari will be available for sale as of October 21st, 2017.
The beautifully designed 612 page hardbound book with dimensions of 12.5" x 11.5", covers all major national/international and public/private Virginio Ferrari artworks from 1957–2016. The monograph includes over 800 high quality photographs of sculptures, environmental installations, proposal renderings, mixed–media works, designs, paintings, posters and catalog covers.
The book is in English and Italian, and includes an introduction essay and interview by acclaimed art historian Arturo Carlo Quintavalle. Seventeen historical essays by historians and scholars from Ferrari's past exhibit catalogs are included throughout the book putting into context each period of work that Ferrari produced, along with an updated curriculum vitae, biography, bibliography, and full index.
Marco G. Ferrari worked in collaboration with Virginio Ferrari, Marisa Ferrari, Samata/Mason (design firm), Grafiche Aurora (printer), Fabio Ferrari (associate professor of Italian studies Franklin University Switzerland), and Alberto Ferrari (graphic designer), to ensure that each artwork presented was elegantly framed and documented. Ferrari Studios has been independently producing and financing this project for over 10 years, along with the assistance of collectors, friends, family members, the Istituto Italiano di Cultura–Chicago, and John D. Kuhns.
The dedication and energy of Ferrari Studios, collaborators and assistants in producing the book, will provide the reader the opportunity to fully grasp Virginio Ferrari's great artistic evolution, thus documenting and forging one of the great sculptors of our time.
Preface to the book, "Traveller Among Forms" by Virginio Ferrari
"In the Divine Comedy, Dante looks back on his life as a dramatic journey through perfectly architected spiraling rings. The concentric curves of the Comedy appear fragmented at times of shadow, but the harmony of their airborne caresses is ultimately driven skyward, as if destined to join with the very same light that generated the circles in the beginning. The unity of a life might therefore be considered in terms of the harmonious reconciliation of one's origin and accomplished destiny. When we return home from the efforts of good day's work, most of us have been fortunate enough to bask, even fleetingly, in the light of such unity.
And so, my search continues: a wheeling flight of light-driven circles, unbroken in harmony though tinged with moments of darkness and fragmented by time's adventures.
This anthology, like my sculpture, essentially pays tribute to the ceaseless struggle to join the ephemeral—by, towards, and for—visions of grace.
Though the book conforms to a chronological ordering and has been arranged according to a classic succession of historically identifiable "periods," the reader will find spaces between subdivisions which cite brief, meaningful echoes from the voices of friends, colleagues, critics, and allies. My hope is that these excerpts will serve to both orient and open future consideration of my work beyond the confines of "periods" categorized by various –isms: be they expressionism, minimalism, or formal abstractionism."

BOOK DETAILS

Title: Virginio Ferrari: Full Circle 1957–2017
Author: Virginio Ferrari
Editor: Marco G. Ferrari
Completion Date: June 2017
Language: English & Italian
Pages: 612 + 4 page hardcover
Illustrations: 881 images
Texts: Introduction & interviews by Arturo Carlo Quintavalle + 17 historical essays
Size:  2 (h) x 12 (w) x 13 (d) in.; 11.5 (w) x 12.5 (d) in. (inside pages)
Weight: 12 lbs
Binding: Hardcover bound on 12.5 in. side
Publisher: Fervir, Inc./Virginio Ferrari (www.ferraristudios.com)
Printer: Grafiche Aurora, Italy (www.graficheaurora.it)
ISBN 978-0-692-88751-6 = $150.00 (+ tax & shipping)
BOOK SALE INFORMATION
Beginning October 21st, 2017 the monograph can be purchased in the following ways:

– Online––via Virginio Ferrari's personal website: www.virginioferrarisculptor.com
– Studios––at Virginio Ferrari's Chicago or Guardistallo studios by making an appointment via email: virginio@ferraristudios.com
Bridgeport Arts Center, 1200 W. 35th Street, river level, Chicago, IL 60609 USA

Melograno, via di Sant'Agata n. 9, 56040, Guardistallo, PI, ITALY

– In-person––via 2017/18 book release events. (for updated events see below)
– Bookstore––Limited copies will be available at the Seminary Co-op Bookstore in Chicago, Illinois.  www.semcoop.com
CONTACTS
Virginio Ferrari, virginio@ferraristudios.com
usa cell: +1-773-230-8185 | italy cell: +39-339-743-1168
Marco G. Ferrari, marco@ferraristudios.com
usa cell: +1-773-230-1106 | italy cell: +39-327-857-7171
Ferrari Studios
+1-312- 572-9018
info@ferraristudios.com
www.ferraristudios.com


BOOK RELEASE EVENTS

October 21st, 2017, 2-3pm
Virginio Ferrari: Full Circle, 1957–2017
Seminary Co-op Bookstore, 5751 S. Woodlawn Ave., Chicago, IL 60637
www.semcoop.com/event/virginio-ferrari-full-circle-1957–2017
773.752.4381 | info@semcoop.com

In partnership with UChicago's Humanities Day (session 2, 2-3pm)
www.humanitiesday.uchicago.edu
773.702.7423 | humanities@uchicago.edu 

BOOK CREDITS
Editor in Chief (Copy, Design , Production & Research) Marco G. Ferrari
Graphic Designer Alberto Ferrari
Contributing Graphic Designers Jack Jacobi and Goretti Kao
Contributing Editor, Translator & Writer Fabio Ferrari
Additional Translators Elizabeth Anderson, Elisa Ferrari, Marisa Ferrari, Elena Picotti, and Lara Porciatti
Additional Copy Editors Gabriel Bartlett, Marisa Ferrari, Lara Porciatti, and Veronica Vegna
Project Assistants Stefania Calabrese, Linda Feinstein, Danielle Gaetano, Claudia Martinez, Joel M. Stopka, Ramona Villarreal, and Imani Wilkinson
Consultants Alberto Ferrari, Fabio Ferrari, Marisa Ferrari, and Virginio Ferrari
Design Development Samata/Mason, Dundee, Illinois, USA
Printing & Binding Grafiche Aurora, Verona, Italy
Financial Support
Ferrari Studios gratefully acknowledges the generous contributions by the following individuals and institutions who have made the publication of this book possible.
This project was funded in part by John D. Kuhns. Additional support provided by: Bruce and Martha Clinton; Steven and Linda Feinstein; Mary E. Fellows; Michele and Flavia Ferrari; Stellina Ferrari and Gino Coloni; James Grodzins; Kurt Gutfreund; Peter and Toula Hlepas and family (George, Manthy, and Georgette); Peter Ivanovich; Walter and Susan Jacobson; Luciano Lavagetti; Bob Levinson; Riccardo and Nika Levi-Setti; Paula Litt and Irv Faber; Anne and Ed Lyman; Danilo Manni; Giuseppe Manni; Sandro Miller; Enrico J. Mirabelli; Enrico Plati; Manfred and Ingrid Raiser; Barry and Jeri Sadegi, Mark and Anna Siegler; and Sharon M. Sikora. Grant for the translation of texts provided by the Istituto Italiano di Cultura–Chicago (Tina Cervone, director).
Ferrari Studios is grateful for the literary and photographic permissions to reproduce those items found in this book subject to copyright. Every effort has been made to acknowledge the copyright holders of the texts and images reproduced in this book, as well as to correctly present information associated with the artworks of Virginio Ferrari. The publisher apologizes for any unintentional omission or misinformation.
We would be pleased to hear from anyone not acknowledged here, as well as anyone with updated information regarding Virginio Ferrari artworks. We will undertake all reasonable efforts to include the appropriate acknowledgement and updated information in any subsequent editions or future publications.
Text Credits
"Preface – Traveler Among Forms" by Virginio Ferrari, translated by Fabio Ferrari.
"Virginio Ferrari: Un "Americano" a Chicago" (introduction) by Arturo Carlo Quintavalle: translated from the Italian to English by Fabio Ferrari and Elizabeth Anderson; copy editing by Gabriel Bartlett (English), Veronica Vegna and Marisa Ferrari (Italian).
Compiled Critical Essays located in the appendix, along with their respective Excerpts that appear throughout the book, are those of the persons cited below. Numbers in parenthesis indicate pages on which the contributions appear along with their bibliographic information.
Paolo Cherchi and Placido Cherchi (372–73, 506–11); Giorgio Cortenova (347, 503–6); Jean-Marie Dunoyer (302–3, 498–503); Fabio Ferrari (465, 518–19); Virginio Ferrari (425, 516–18); Raphael Fodde (218–19, 495–96); Harold Haydon (92–93, 150–51, 482–83, 492); Christian K. Laine (198–99, 494–95); Licisco Magagnato (58–59, 481–82); Jan van der Marck (118–119, 484–85); Gian Lorenzo Mellini (43, 74–75, 481–82); Peter C. Pran (237, 496–98); Arturo Carlo Quintavalle (141, 398–99, 485–492, 511–16); and Franz Schulze (162–63, 492–94). Translated Excerpts from the Italian to English and from English to Italian by Fabio Ferrari.
"Biography" by Fabio Ferrari and Marco G. Ferrari: translated by Elisa Ferrari and Fabio Ferrari; copy editing by Lara Porciatti and Marisa Ferrari (Italian).
"Storie Private: Dialogo tra Virginio Ferrari e Arturo Carlo Quintavalle" (interview): translated from the Italian to English by Lara Porciatti and Elizabeth Anderson: copy editing by Gabriel Bartlett (English), Lara Porciatti and Marisa Ferrari (Italian).
Curriculum Vitae, Bibliography, and Index compiled by Marco G. Ferrari.
Photographic Credits (artist's renderings are noted in parenthesis)
Enzo and Raffaello Bassotto, Walter Campara, Mario Carrieri, Jonas Dovydenas, Alberto Ferrari (photographs and artist's renderings), Marco G. Ferrari, Marisa Ferrari, Virginio Ferrari, Karl Geckler (artist's rendering), Ron Gordon, Ben Kern, Sandro Miller, Scott Nava, Andrea Pagliarani, Maria Perotti, Marc Pokempner, Gaetano Richelli, James C. Smith (artist's renderings), Costanza Soprana, Uberto Tommasi, Prof. S. Tommasoli fu Filippo, Michael Tropea, Vertex Architects (artist's renderings)